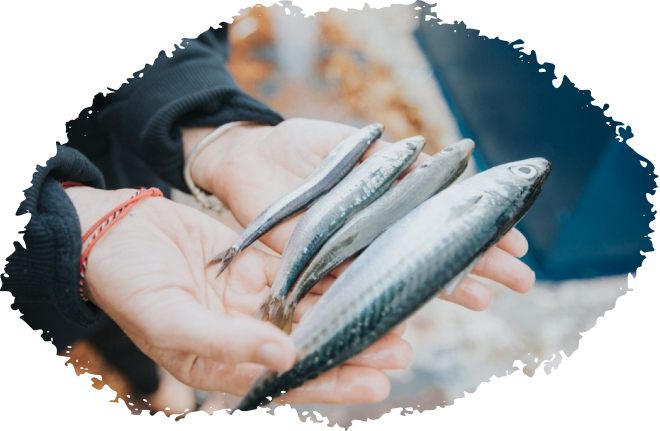 Fish is a food that represents a quality source of nutrients because it provides a balanced intake of proteins, vitamins, fats and minerals, and has a very low energy density.
Proteins
Proteins and fats are the main macronutrients of fish that determine its nutritional value. Fish is a food with excellent nutritional value, providing high-quality protein and various vitamins and minerals such as vitamin A and D, magnesium, and phosphorus. Furthermore, it contains a high proportion of long-chain polyunsaturated omega-3 fatty acids, whose beneficial effects on health are already known.
Fish proteins contain all essential amino acids, including sulphur-containing amino acids (cysteine and methionine), which are not present in plant proteins. Fish is an important source of animal protein and provides a greater feeling of satiety than other sources of animal protein, such as chicken and beef. Fish proteins are mainly responsible for building and repairing muscle tissue, improving immunity and the quality of the blood panel.
Fats
The composition of fatty acids in fish varies depending on factors such as the type and diet of the fish and environmental factors such as salinity, temperature, season, and geographical location. Lipids in fish contain long-chain omega-3 polyunsaturated fatty acids (PUFA), especially eicosapentaenoic acid (EPA) and docosahexaenoic acid (DHA). PUFA is found in fish in a liquid form that circulates freely in the blood vessels, and this makes it different from other fats or oils. Intake of PUFA is considered very important in nutrition, health and disease prevention. Omega-3 fatty acids reduce the rate of myocardial infarction and influence the reduction of blood pressure and triglyceride concentration in the blood. It is known that omega-3 fatty acids found in fatty fish are essential in the growth and development of children and in the prevention of coronary heart disease. DHA is a fatty acid important for optimal brain function and brain development in children, while EPA helps improve cardiovascular health.
Minerals and microelements
In addition to milk and dairy products, fish and fish bones are a good source of calcium, and research has shown that absorption of calcium from fish is comparable to absorption from skimmed milk. Calcium is an important mineral for bone density, and calcium ions play a role in most metabolic processes. Fish is also very rich in minerals such as iodine and selenium. Small types of fish that are consumed whole, together with the head and bones, can be an excellent source of many minerals such as iodine, selenium, zinc, iron, calcium, phosphorus and potassium. Selenium plays a role in thyroid function, and low levels of selenium can increase the risk of myocardial infarction and the death rate from cardiovascular disease. Furthermore, low levels of selenium are associated with an increased risk of cancer and kidney disease. Iron is an important component for the synthesis of haemoglobin in erythrocytes, which helps transport oxygen to all parts of the body. Lack of this mineral can cause anaemia and impaired brain function, and in infants it causes a reduced ability to learn.
Vitamins
The amount of vitamins in fish can vary depending on the type of fish. Fish is a significant source of vitamins A and D and several vitamins of the B group. Many foods do not naturally contain a significant amount of vitamin D, and the intake of this vitamin through fortified foods is not sufficient for the development of a child or an adult. Many types of fish store a large amount of vitamins A and D in the liver. Vitamin A is important for normal growth, formation of bones and teeth, building cells, and also prevents the problem of vision loss and helps in the treatment of many eye diseases. Vitamin D in fish is found in the form of vitamin D3 (cholecalciferol). Vitamin D deficiency leads to rickets, osteomalacia, low bone mineral density and increased incidence of falls in subjects. Vitamin D deficiency worsens osteopenia, osteoporosis, and fractures in adults, and is also associated with diabetes. Fish and fish oil are foods that naturally contain vitamin D.
HIGH QUALITY AND FOOD SAFETY STANDARDS